About Our Company
---
Our Philosophy
We welcome and encourage your participation at every step in the process. Our number one goal is to ensure our customers are 100% satisfied. Our experience, belief in open communication and high quality standards enables us to guide and assist our customers through each phase of the business experience.
Our Experience & Expertise
We pride ourselves on our reputation for appreciating your budget, your need for timely service and high-quality work. This attitude is a mandatory requirement for every member of our team, including our professional and courteous installers who come to us with many years of experience in the industry.
Our Promise To You
We promise to always treat you respectfully, fairly and professionally. We know that a successful business is built "one customer at a time" and that an organization's reputation is its most valued asset. glass.com of Illinois will always value your business and will strive to build and maintain a long term mutually beneficial business relationship with you.
Meet Our Team Leaders
---
Patrick R. Hill, President
Patrick Hill grew up in the glass industry. He began working at his father's glass company in his early teen years and now has nearly 30 years of experience in all phases of the glass and architectural metal trade. Patrick spent his career working for and managing some of the most highly respected glass companies in the Chicagoland area before opening glass.com of Illinois. He holds a degree in science education with a minor in safety engineering (emphasis on construction) from the University of Wisconsin at Whitewater and is dedicated to the safety and quality of the work his company performs.
Pat and his wife, Renee, and their two children live nearby. Patrick played hockey for UW Whitewater and remains an avid hockey fanatic to this day.
---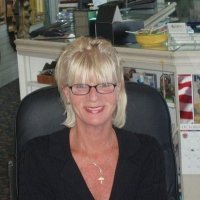 Debra L. Olson, Vice President
No one who meets Debbie Olson ever forgets her. With 12 years of experience in the residential and commercial glass industry, Debbie brings talent and enthusiasm to all customers of glass.com of Illinois. Her meticulous attention to details and follow-through combined with her overriding goal of total customer satisfaction, has made Debbie a legend in the Chicago glass community.
Prior to glass.com of Illinois, Debbie was the customer service and operations manager for a large multi-faceted highly respected glass company in the Western suburbs. Previous to entering the industry, she was a software technical trainer and administrator for one of the nation's largest legal service providers.
Debbie and her husband Ron, (who himself owns a home remodeling company), live in Plainfield, IL. They are both camping enthusiasts and Debbie enjoys refurbishing furniture and other antiques.
---
Lyle R. Hill, Technical Advisor and Coach
With more than 44 years of glass industry experience, Patrick's father, Lyle, serves as an advisor to the company. Before retiring and becoming an industry consultant, he managed one of the nation's largest and, at the time, most highly accomplished glass and metal companies. Lyle is thrilled to see the son who started working in his shop so many years ago continuing that tradition on his own.